Lake Havasu Events – Fishing, Winterfest, Boat Races and More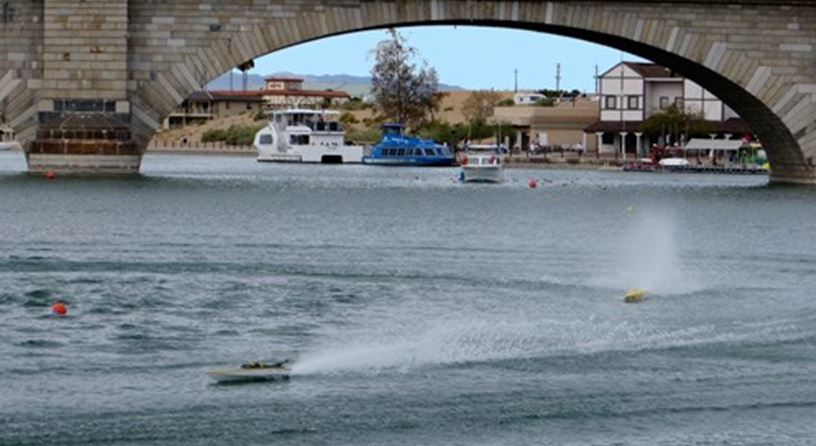 This February 2015 will be packed full of fun events and activities for the whole family to enjoy in Lake Havasu. You will have the opportunity to enjoy a bass tournament, Lake Havasu's Winterfest, model boat races, and so much more. Below you will find the event details to these events and more.
Lake Havasu Events
FLW Rayovac Bass Tournament – 150 boat, 300 angler bass tournament with a possible $75,000 first-prize with full-field and contingency requirements met. Must be a member to participate in the tournament. Weigh-in will be at 2pm daily.
Event Details:
√Dates: February 5, 2015 through February 7, 2015
√Time: Sunrise
√Location: Lake Havasu State Park, Lot 2 (Ramada 2), 699 London Bridge Rd. Lake Havasu
√Admission: Free for spectators
√Website: www.flwoutdoors.com
30th Annual Winterfest – Visitors and residents alike will be out by the thousands for 30th Annual Winterfest. Over 200 vendors from across the United States invite everyone to shop, browse, relax, and enjoy Lake Havasu City's unique culture. Winterfest offers more than booths – there's entertainment, activities for youngsters, and more. Plan now to join the crowd for two spectacular days of arts, crafts, clothing, jewelry, home decor, tasty street-food, beer garden, and eclectic entertainment!
Event Details:
√Date: February 7, 2015
√Time: 10:00 am to 5:00 pm
√Location: McCulloch Blvd. 2114 McCulloch Blvd. N. Lake Havasu
√Admission: Free
√Website: www.havasuchamber.com
Cancer Ball 2015 – Join the Cancer Association of Havasu for their Annual Cancer Ball, a "sell-out" event providing an opportunity for the Who's Who of Havasu to enjoy fine-dining, great music, and dancing in an elegantly-decorated atmosphere. The occasion is used to announce the Cancer Association Hero of the Year recipient who is honored by having scholarships for second-year nursing students at the local campus of Mohave Community College awarded in their honor.
This year's theme: "Roaring 20′s Black & White Ball"
Event Details:
√Date: February 7, 2015
√Time: 6:00 pm
√Location: Shugrue's Bridgeview Room, 1425 McCulloch Blvd. N. Lake Havasu
√Admission: $120 per person
√Website: www.havasucommunityhealth.org
London Bridge Model Boat Race – Come on out to the Bridgewater Channel next to the famous London Bridge for the District 19 Remote Control Boat Racing event. Last year's event was the largest gas RC boat race in the country, and with speeds from 60 – 90 miles per hour, proving this is an event not to be missed! Various classes will be racing an oval course in the Channel. Drivers earn points, with drivers coming from California, Nevada, New Mexico and Arizona.
Event Details:
√Dates: February 6, 2015 through February 8, 2015
√Location: Bridgewater Channel – Next to the London Bridge
√Admission: Free
√Website: www.namba19.com
26th Annual Western Winter Blast – The shimmer and sparkle of this winter holiday fireworks show taking place above scenic SARA Park glows brighter than ever this year! A visit to Lake Havasu City during President's Weekend is not complete without experiencing Western Pyrotechnic Association's and Lake Havasu City's remarkable showcase commemorating three amazing anniversary celebrations.
Fireworks start each evening at 5pm and go until 10:30pm nightly, except Sunday (ending at 10pm). The organized show segments are approximately one hour and begin at 7:30pm Thursday-Sunday, with the largest single show being Saturday night. Gates for the show will open at 3pm each day.
Event Details:
√Dates: February 12, 2015 through February 15, 2015
√Times: 5:00 pm to 10:30 pm
√Admission: $5 daily per person, 12 and under free
√Location: SARA Park, 1799 Sara Parkway, Lake Havasu
√Website: www.westernpyro.org
This Lake Havasu event information is brought to you by: Mary Anne DeYoung, your local real estate professional in Lake Havasu City, AZ and surrounding communities. "Play like you mean it."
Featured Homes for Sale