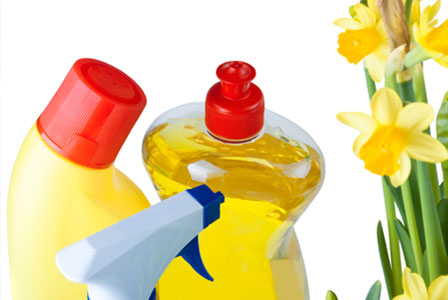 Home Spring Cleaning Tips – An Extensive List
When it comes to a thorough spring cleaning check list, we have found the perfect one that will suit every homeowner. This check list is great for both spring cleaning and getting your home ready for sale. You won't see a cleaner home once you complete this list.

Spring Cleaning Check List
Kitchen
√ Remove and clean window coverings
√ Remove items from cabinets and drawers, wipe out each one, then place items back neatly
√ Wash and sanitize cutting boards
√ Wash cabinet doors and knobs
√ Clean out pantry and throw away any outdated foods
√ Clean oven
√ Clean stove top by remove elements and drip bowls, if applicable, wash and put back. Or, for glass tops, clean as you usually would
√ Clean out refrigerator and freezer by removing all items and wiping inside and outside thoroughly. Throw away all outdated foods
√ Clean under fridge and stove
√ Vacuum refrigerator coils
√ Clean the microwave
√ Clean crumbs out of toaster
√ Clean inside and outside of coffee maker
√ Wipe down any other counter appliances
√ Wash counters and back splash
√ Wash sink and faucets
√ Dust light fixtures
√ Wash windows and window sills, dust off screens if present
√ Wash switch plates
√ Wash walls and trim as needed
√ Wash doors and door knobs
√ Wash vent covers
√ Sweep and mop floor
Dining Room
√ Wash curtains
√ Wipe down table and chairs
√ Wipe down or dust all furnishing
√ Clean chair pads, if present
√ Polish table, if necessary
√ Dust any displayed items, photos and art
√ Launder table linens
√ Shine silverware
√ Wash windows and window sills, dust screens if present
√ Wash switch plates
√ Wash walls and trim
√ Wash doors and door knobs
√ Clean vents
√ Sweep and mop floors

Foyer
√ Dust light fixtures
√ Wash walls and trim
√ Wash doors, knobs and switch plates
√ Clean furnishings
√ Clean entry mat
√ Clean out coat closet if present, wash walls and floor, remove all unused items
√ Sweep and mop floors
Living Room / Family Room
√ Vacuum furniture
√ Spot clean furniture if needed
√ Launder throw pillows and blankets
√ Dust shelves, furniture and décor
√ Wash windows and window sills, clean screens of present
√ Clean television screen
√ Dust electronics
√ Organize the room in a tidy manner
√ Wash switch plates
√ Wash walls and trim as needed
√ Wash doors and knobs
√ Wash vent covers
√ Sweep, vacuum and mop floors

Stairwells
√ Sweep / vacuum stairs
√ Clean walls
√ Wipe down handrail
√ Dust art and light fixtures
Bedrooms
√ Dust furniture
√ Clean out drawers and wipe inside and outside of each one. Remove any unused or unwanted items
√ Clean under the bed and clean area thoroughly
√ Launder bedding and curtains. Wash pillows and duvet in hot water
√ Dust light fixtures and lamps
√ Wash windows and window sills. Clean screens if present
√ Wash switch plates. Wash walls and trim as needed.
√ Wash mirrors or dust art
√ Wash doors and doorknobs
√ Clean vent covers
√ Clean out closets by removing everything. Clean walls, floors, doors, knobs, switch plate covers and vents. Remove any unwanted or unused items
√ Sweep and wash floor or vacuum
Bathrooms
√ Empty all cabinets and vanity. Wash inside, replace items neatly. Discard expired medications and cosmetics.
√ Wash outside of cabinets and vanities
√ Clean tub and drain
√ Clean toilet, inside and out. Remove seat and clean around seat bolts.
√ Clean sink and drain
√ Clean mirror and frame
√ Dust light fixtures
√ Wash windows and window sills. Clean screens if present
√ Wash switch plates. Wash walls and trim. Wash doors and door knobs
√ Clean vent covers
√ Sweep and wash floors
Laundry Room
√ Wash windows and window sills if present
√ Wash inside and outside of cabinets or shelving
√ Wash outside of washer and dryer
√ Wash inside of washing machine
√ Wash lint trap with soap and water to remove filmy build-up from laundry soaps and dryer sheets. Let air dry thoroughly before putting back in place
√ Wash switch plates
√ Wash walls and trim
√ Wash doors and door knobs
√ Wash floor registers and other vent covers
√ Sweep and wash floors
These spring cleaning tips are brought to you by: Mary Anne DeYoung, your local real estate professional in Lake Havasu City, AZ and surrounding communities. "Play like you mean it."
Featured Homes for Sale