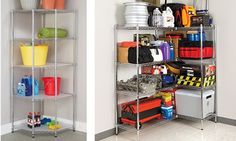 Creating More Space for Your Home
With all the new construction, homes are getting bigger and bigger. The average home size last year was 2,500 square feet. However, during the real estate bust, homes were being scaled down to much smaller sizes and now those homes are available for sale. So, if you are looking to buy a smaller home, I have some tips to help you create more space in your smaller space. Just follow these great tips for any home with small floor plans.
Create space for your home
Storage space – Use what storage space you have appropriately. Bookcases and shelves can be used as a multi function space. Get creative and decorative by using them to store artwork, DVD's, vases, heirlooms, sculptures and more. You can even use them to hold your floor plants if you have enough space.
Keep-in-mind, if you have a bulky bookshelf or entertainment center, you may be better off without it. You will have to use your best judgment in this area.
Extra storage spaces – For seasonal items and decorations don't forget under bed storage. This can save you tons of space if you utilize the under bed storage space. Closets and nooks can also be big storage spaces if you pack things in just right. There are tons of items available to help you organize closets and get the most space from them at any home goods store.
Wall and ceiling space – When it comes to the kitchen of a small house, it can be difficult to find the space you need for pots and pans, fruit and more. Walls and ceilings come in handy in the kitchen most. You can hang spice racks on the walls, add shelving for storage containers, and hang utensils on the walls to get more organized. You can hang a pot and pan rack on the ceiling to hold most of your pots and pans. You may also consider purchasing a mobile food cart to hold extra items that you can move around the space easily.
These space making tips are brought to you by: Mary Anne DeYoung, your local real estate professional in Lake Havasu City, AZ and surrounding communities. "Play like you mean it."
Featured Homes for Sale